Tasks
The infrastructure department provides the institute with a range of services to ensure the smooth running of the diverse scientific and non-scientific operations. The focus is on the project coordination of national and international collaborative research projects, all administrative tasks of the management of the institute and the support and operation of the technical infrastructure.
Project Coordination
The tasks for managing the project acquisition and later project support for national and international collaborative projects from the project administration perspective are located here.Support for the application is provided in close cooperation with the scientific departments.In the case of approved projects, the project coordination takes over the financial and administrative tasks up to the active support of the management of the projects (including coordination of collaborative projects of the European Union, special research areas office).
General Management
A distinction is made between personnel and budget management in the area of sovereign budget management and third-party funds generated from collaborative and cooperative projects.The office acts as an interface between the central administration of the university and the various project promoters of the funded research projects for all financial and administrative matters.
Computer Lab
The focus is on the management of the computer inventory and data network as well as the procurement of the necessary hardware and software in close cooperation with the scientific departments. The elaboration of operational concepts and their further development are also part of the scope of tasks. The range of services is rounded off by supporting the organization of scientific conferences, the design and production of publications of all kinds, and cooperation in university-wide fields.
Contact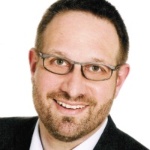 Holger Schwarz
Prof. Dr. rer. nat. habil.
Apl. Professor