Open student projects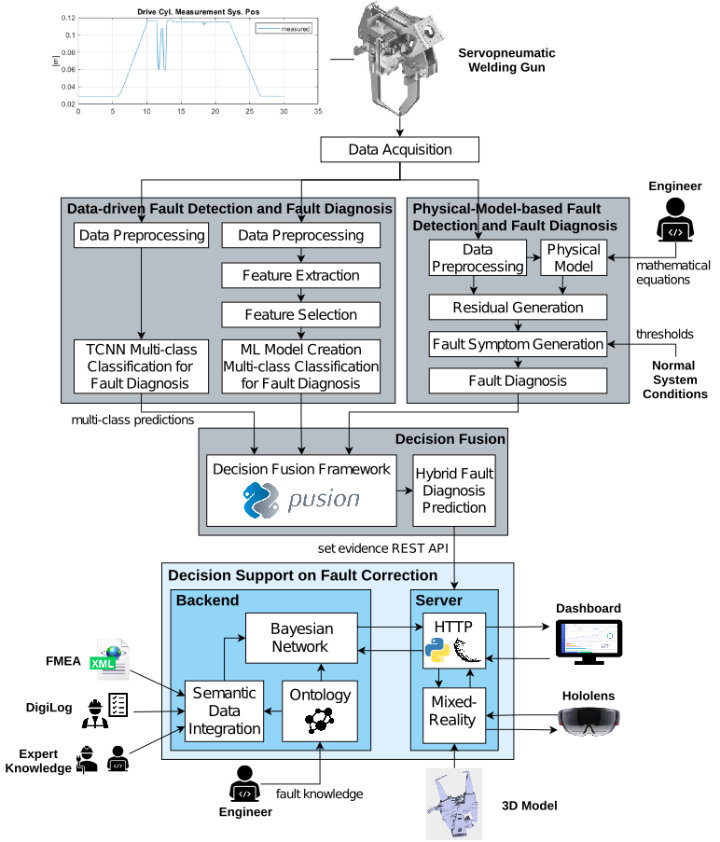 Ausgangssituation und Motivation
Die Basis für die präskriptive Wartung (Prescriptive Maintenance) im industriellen Produktionsumfeld stellt die Fehlererkennung, -diagnose und -korrektur in einem Produktionsprozess dar. Das Ziel der Fehlererkennung ist die Detektion von abnormalen bzw. fehlerhaften Prozessbedingungen. Im Schritt der Fehlerdiagnose gilt es auf Basis der detektierten abnormalen Prozessbedingungen den genauen Fehler zu identifizieren, zu lokalisieren und die Fehlerursachen zu bestimmen. Wurde ein Fehler diagnostiziert, ist es Aufgabe der Fehlerkorrektur geeignete Fehlerbehebungsmaßnahmen zu bestimmen und den Fehler zu reparieren oder abzuwenden.
Diese Masterarbeit konzentriert sich auf ein ganzheitliches System zur automatisierten hybriden Fehlerdiagnose und Fehlerkorrektur (vgl. Abbildung 1). Bei der automatisierten hybriden Fehlerdiagnose werden typischerweise datengetriebene Methoden und/oder Methoden basierend auf physikalischen Modellen eingesetzt. Viele datengetriebene Methoden entsprechen maschinellen Lernverfahren, wie z. B. künstliche Neuronale Netze oder Support-Vektor-Maschinen. Auf physikalischen Modellen basierende Methoden erkennen Prozessfehler durch die Generierung von Residuen, d. h. Fehlerindikatoren, die durch einen Vergleich von gemessenen Prozessbedingungen mit simulierten Prozessbedingungen erzeugt werden. Auf Basis der generierten Residuen bzw. Fehlerindikatoren wird dann die eigentliche Fehlererkennung und -diagnose durchgeführt. Die hybride Fehlerdiagnose kombiniert die Fehlervorhersagen einzelner datengetriebener und physikalisch modellbasierten Fehlerdiagnosemethoden mit Methoden der Entscheidungsfusion. Durch eine solche Kombination werden einzelne Fehlerdiagnosemethoden gegenseitig komplementiert und kooperativ vervollständigt, womit die Performance bei der Erkennung und Diagnose
von Fehlern verbessert werden kann [1].
Entscheidungsunterstützungssysteme können Instandhaltungspersonal bei der Fehlerkorrektur
von diagnostizierten Fehlern unterstützen [2, 3]. Typischerweise setzen Entscheidungsunterstützungssysteme auf einer Wissensbasis auf, die Fehlerwissen über Fehlersymptome, -ursachen und -behebungsmaßnahmen enthält. Über Methoden des automatischen Schließens können dann Schlussfolgerungen auf der Wissensbasis durchgeführt werden. So können zum Beispiel über die Wissensbasis für detektierte Fehlersymptome die Fehlerursachen und deren Behebungsmaßnahmen abgeleitet werden.
Diese Arbeit fokusiert sich auf ein ganzheitliches System zur hybriden Fehlerdiagnose und
Fehlerkorrektur für servopneumatische Schweißzangenantriebe. Abbildung 1 stellt den konzeptionellen Aufbau dieses Systems dar.
Aufgabenstellung und Zielsetzung
Im Rahmen dieser Arbeit soll das in Abbildung 1 veranschaulichte System zur hybriden Fehlerdiagnose und Fehlerkorrektur für eine servopneumatische Schweißzange umgesetzt werden. In mehreren vorangegangenen Arbeiten wurden die einzelnen Komponenten des Systems, d. h. die datengetriebene Fehlerdiagnose, die physikalisch modellbasierte Fehlerdiagnose, das generische Framework zur Entscheidungsfusion, das Entscheidungsunterstützungssystem auf Basis Bayes'scher Netze sowie dessen Visualisierung über ein Browser-basiertes Dashboard und in einer Mixed-Reality Umgebung mittels Microsoft Hololens bereits implementiert (unter anderem [4–7]). Ziel dieser Masterarbeit soll die Orchestrierung dieser einzelnen Komponenten zu dem oben beschriebenen Gesamtsystem für den Anwendungsfall eines servopneumatischen Schweißzangenantriebs sein. Der Schwerpunkt der Arbeit soll hierbei auf der Umsetzung der einzelnen Komponenten für den bereitgestellten Anwendungsfall sowie auf der Konzeption und Implementierung der Schnittstellen zwischen den Komponenten liegen. Die bereits implementierten Komponenten, die vorausgegangenen Arbeiten und die Datenquellen des Anwendungsfalls werden zur Verfügung gestellt. Für die Entscheidungsfusion der Fehlerdiagnosemethoden soll
das Entscheidungsfusions-Framework pusion (https://github.com/IPVS-AS/pusion) verwendet werden.
Die Arbeit ist methodisch sehr vielfältig und erfordert den Umgang mit Methoden der Entscheidungsfusion, der Wissensrepräsentation und des automatischen Schließens mittels Bayes'scher Netze sowie der Microsoft Hololens für Mixed-Reality Umgebungen.
Die Arbeit umfasst die folgenden Aufgaben
Literaturrecherche und Evaluation von ganzheitlichen Systemen für die Fehlerdiagnose und Fehlerkorrektur. Hierbei soll der Schwerpunkt auf der Realisierung der Schnittstellen zwischen den Komponenten der Sub-Systeme liegen.
Definition von Anforderungen an das ganzheitliche System zur hybriden Fehlerdiagnose
und Fehlerkorrektur für ein servopneumatischen Schweißzangenantrieb.
Konzeption und Implementierung der Schnittstellen zwischen den Komponenten der SubSysteme.
Adaption und Implementierung der Komponenten des ganzheitlichen Systems zur Fehlerdiagnose und Fehlerkorrektur für einen servopneumatischen Schweißzangenantrieb.
Test und Evaluation des ganzheitlichen System in Form einer Fallstudie.
Präsentation der Zwischenergebnisse in einem Vortrag.
Präsentation der Ergebnisse in einem Vortrag.
Organisatorisches
Art
Master Thesis oder Bachelor Thesis
Title of the Thesis (en)
Hybrid Fault Diagnosis and Fault Correction for Servopneumatic Welding Guns
Titel der Arbeit (de)
Hybride Fehlerdiagnose und Fehlerkorrektur für Servopneumatische Schweißzangen
Betreuer

Yannick Wilhelm, M.Sc.
Dr. Peter Reimann

Prüfer
Prof. Dr.-Ing. habil. Bernhard Mitschang
Beginn
ab sofort
Ende
Start Datum + 6 Monate
Literatur
[1] Y. Wilhelm, P. Reimann, W. Gauchel, and B. Mitschang, "Overview on Hybrid Approaches to Fault Detection and Diagnosis: Combining Data-Driven, Physics-Based and Knowledge-Based Models," Procedia CIRP, vol. 99, pp. 278–283, Jan. 2021.
[2] Q. Zhou, P. Yan, H. Liu, and Y. Xin, "A Hybrid Fault Diagnosis Method for Mechanical Components Based on Ontology and Signal Analysis," Journal of Intelligent Manufacturing, vol. 30, no. 4, pp. 1693–1715, Apr. 2019.
[3] A. García and E. Gilabert, "Mapping FMEA into Bayesian Networks," International Journal of Performability Engineering, vol. 7, no. 6, p. 525, 2011.
[4] H. Sadhasivan, "Knowledge Representation and Automated Reasoning for Decision Support on Fault Correction in Manufacturing," University of Stuttgart, Stuttgart, Master Thesis, 2020.
[5] A. Obralija, "Framework zur Entscheidungsfusion für die Kombination von Fehlerdiagnosemethoden," University of Stuttgart, Stuttgart, Master Thesis, 2021.
[6] M. H. Butt, "Visualization of a Bayesian Network and Integration of User Feedback for Decision Support in Manufacturing," University of Stuttgart, Stuttgart, Master Thesis.
[7] M. Müller, "Entscheidungsfusion mit Bayes'schen Netzen zur Kombination von Fehlerdiagnosemethoden," University of Stuttgart, Stuttgart, Bachelor Thesis, 2021.
Motivation
In the Internet of Things (IoT) [1], IoT devices work together in an autonomous manner to achieve common goals. This mostly involves the evaluation of sensor data, e.g., to react to new situations. Distributed IoT applications can be developed, deployed and executed in a model-driven manner [2]. Therefore, the application modeler models the application typically according to the pipes-and-filters pattern as a directed graph. After the deployment, the resulting application can then be executed in an IoT environment [3,4].
IoT devices often have less computing power and are exposed to their environment and therefore more vulnerable to failures, such as faulty sensor readings or failing power supply. Since critical applications often run on IoT devices, such as warning systems in industry, ways are needed to make IoT systems as robust as possible against failures. Reasons of such failures can be faulty sensors or high latency that lead to unintended behavior of the overall application.
Application modelers might not be aware of critical aspects of their application and, thus, create applications that are very vulnerable to such failures. The application modeler can be supported in creating more failure-tolerant applications by getting optimization proposals during the execution of the application, based on runtime information, i.e. execution data, that is extracting from monitoring systems, execution engines, middleware, etc [4,5]. Such execution data can be for example the resource utilization of a device or the quantity of messages in the queue of a messaging engine on a device [4]. Since the application model is independent of the executing hardware, optimization proposals must also concern the deployment, e.g., that an operation should be deployed on a more powerful device. To create such a system is the goal of this thesis.
Goals
The goal of this thesis is to develop methods to use execution data, e.g. from monitoring systems or execution engines, to optimize the application and its deployment of the model-driven development process of IoT applications. This optimization should occur during the lifecycle of a running application. The focus of these optimizations is to increase the overall failure-tolerance of the application. The methods should be evaluated with a prototypical implementation.
The work includes the following tasks:
Familiarization with IoT, the model-driven development process for IoT applications and monitoring systems
Research on typical failure scenarios during the execution of model-driven IoT applications and their reasons

Development of different mechanisms to optimize the running application in terms of failure-tolerance:
– Definition of a failure model that underlies the researched typical failure scenarios
– Development and integration of failure recognition techniques
– Development of mechanisms to cope with such failures
– Development of a method to integrate the mechanisms into the running models

A prototypical implementation to validate the concept, building on existing software, provided by the institute

Presentation of the interim and end results in two separate talks
Requirements
Very good programming skills
Previous knowledge in the field of modeling through appropriate lectures
References
[1] O. Vermesan and P. Friess, Internet of things: converging technologies for smart environments and integrated ecosystems. River publishers, 2013.
[2] F. Ciccozzi, I. Crnkovic, D. Di Ruscio, I. Malavolta, P. Pelliccione, and R. Spalazzese, "Model- driven engineering for mission-critical iot systems," IEEE software, vol. 34, no. 1, pp. 46–53, 2017.
[3] A. C. Franco da Silva, P. Hirmer, and B. Mitschang, "Model-based operator placement for data processing in iot environments," in 2019 IEEE International Conference on Smart Computing (SMARTCOMP), 2019, pp. 439–443.
[4] D. Del Gaudio and P. Hirmer, "A lightweight messaging engine for decentralized data processing in the internet of things," SICS Software-Intensive Cyber-Physical Systems, vol. 35, no. 1, pp. 39–48, 2020.
[5] D. Del Gaudio, M. Reichel, and P. Hirmer, "A life cycle method for device management in dynamic iot environments." in IoTBDS, 2020, pp. 46–56.
Organisatorisches
Art der Arbeit: Master Thesis
Titel der Arbeit (de): Verbesserung der Fehlertoleranz in der Entwicklung von IoT- Anwendungen
Titel der Arbeit (en): Improving Failure-Tolerance in IoT Application Development
Betreuer: Daniel Del Gaudio
Prüfer: PD Dr. rer. nat. habil. Holger Schwarz
Beginn: ab sofort